обратно
Where is Sustainability Information in 2021?
Thomas Krantz
Advisor to the Managing Director
Let's get used to relying on assurance statements. They are not new, but they have been flying low under the public radar.
Which companies are going where regarding their stated sustainability goals? How are they advancing? How do we know?
Clear and reliable information on ESG is a vexing problem, and it both defines and complicates many of our tasks as leaders of international financial centers in channeling savings the way investors are asking, the way we ourselves want to be working.
Global norms are emerging, slowly, notably thanks to the establishment now underway of the International Sustainability Standards Board under the aegis of the International Financial Reporting Standards (IFRS) Foundation [1]. 90 countries have fully complied with IFRS standards for accounting in their jurisdictions; the addition of work on sustainability will progressively help frame the common understanding we must acquire of these subjects.
IFRS is accelerating convergence in global sustainability reporting standards, including their technical underpinnings. Its working group is composed of:
the Financial Stability Board's Task Force on Climate-related Financial Disclosures;
the Value Reporting Foundation representing the intended merger of the International Integrated Reporting Council and the Sustainability Accounting Standards Board;
the Climate Disclosure Standards Board; and
the World Economic Forum.
Throughout the process, the working group will consult extensively with the Global Reporting Initiative. This represents the synthesis of decades of expert work. There are no better experts out there.
But how is this knowledge going to be delivered to those looking for it?
Environmental, social, and governance questions do not fall within the range of usual accounting measures. We cannot count or measure these different business areas in familiar ways. Fortunately, the accounting profession has a second tool besides its familiar audit work, and that tool is assurance statements. These are the focus of this opinion.
For nearly two decades, the accounting profession's agreed global standards for their work have been set by the publicly overseen International Audit and Assurances Standards Board (IAASB), established in 2004. The body of their work is the agreed global standard for accountants by G20 governments, and it is a key component in the Financial Stability Board's compendium of principles.
What are assurance services? Why have they remained largely unknown?
Assurance services are a type of independent professional service usually provided by certified or chartered accountants. Assurance services can include a review of any financial document or transaction, such as a loan, contract, or financial website. This review certifies the correctness and validity of the item being reviewed by the CPA. The point is to get an independent, third-party review that validates or corrects the information sourced, the hypotheses used to assess it, and the conclusions were drawn:
Assurance Services are independent professional services that improve the quality or context of information for decision-makers;
Information risk is reduced by assurance services, allowing for better decision making;
Businesses use assurance services to increase the transparency, relevance, and value of the information they disclose to the market and their investors;
Assurance services can be applied to risk assessments, business performance, information systems reliability, e-commerce, and healthcare performance.
Providing independent assurance is a way to bring comfort that the information on which one makes decisions is reliable, and therefore reduces risks, in this case, information risk. [2]
Providers of assurance services will help clients navigate the complexities, risks, and opportunities in their partner networks by proactively managing and monitoring risks presented by third-party relationships. Businesses use assurance services to increase the transparency, relevance, and value of the information they disclose to the market and their investors. Many find by sharing business performance better, it becomes a sustainable growth and competitive differentiation strategy.
What interests WAIFC members and their readers are assurance services that address risk assessments and business performance measurements. How else to evaluate the performance of a board of directors or the meaning of an enterprise's social engagement and philanthropy?
An example for ESG will demonstrate the point: the "Assurance on a Greenhouse Gas Statement," completed in 2013.
The IAASB undertook to develop a new International Standard on Assurance Engagements (ISAE) addressing professional accountants' responsibilities with respect to assurance engagements on a Greenhouse Gas (GHG) Statement. With the increasing attention given to the link between GHGs and climate change, many entities were quantifying their GHG emissions for internal management purposes, and an increasing number are also preparing a GHG statement:
As part of a regulatory disclosure regime;
As part of an emissions trading scheme; or
To inform investors and others on a voluntary basis. Voluntary disclosures may be, for example, published as a stand-alone document; included as part of a broader sustainability report or in an entity's annual report, or made to support inclusion in a "carbon register."
With this in mind, the IAASB approved a project proposal on this topic at its December 2007 meeting.
The focus of this project was on an entity's GHG statement; it did not include requirements or guidance on assuring emissions offsets. (While not a primary focus, a separate Standard on this topic will likely be of assistance to financial statement auditors when considering the carrying value of emission trading rights in a financial statement audit.)
During 2008, a Project Advisory Panel was set up and four roundtables were held in Sydney and Melbourne, Toronto, and Brussels. Each roundtable had approximately 25-30 participants. Participants were from a diverse range of stakeholder groups, including accounting firms and accounting bodies; government regulators and policymakers; reporting companies; public sector auditors; non-accounting assurers and standard-setters; institutional investors; non-government organizations; academics; and legal professionals.

The first two roundtables had exploratory discussions to consider whether an ISAE should be developed and, if so, to identify key issues and seek initial direction. The next step was to debate key issues identified earlier, using a "straw man" skeleton Standard to focus discussions. The last session provided feedback on an Issues Paper prepared on the basis of input received at the previous roundtables. The Issues Paper was subsequently discussed at the IAASB's December 2008 meeting when the Board agreed that developing such a Standard would be consistent with its public interest mandate.

In early 2009, the IAASB Emissions Task Force worked through several iterations of the Standard, which at several points was exposed to public review and comment, over a two-year period. The first round of 35 comments led to redrafting, and the second round drew 41 further comments. Because these are public standards, all comments have always been posted on the IAASB website. The last step was to assure consistency with related Assurance Standards. And finally, auditors needed guidance on how to proceed when out in the field collecting and verifying information the client would give.
The IAASB approved ISAE 3410, Assurance Engagements on Greenhouse Gas Statements, at its March 2012 meeting, for effect in September 2013.
Well, what does this look like in practice?
In the case of industrial gases giant Air Liquide, the website gives the summary view below.
Air Liquide publishes an integrated report in the form of a Universal Registration Document, filed with the French securities commission, the AMF.
The Table of Contents refers to the annual report portions of the Document, as well as extra-financial information which would not be subject to formal audit – again because there is no universally agreed accounting standards for social and environmental impact or governance. These texts in the Document would have been their accounting firm's assurance statements, used to validate the quality of information and the logic of its presentation.
The governance review and the "Extra-financial Performance Declaration and environmental and social reporting are clearly delineated. Is there a lot for a reader to go through? Of course, but this is the truer picture of the position of the company as its board of directors must lead it.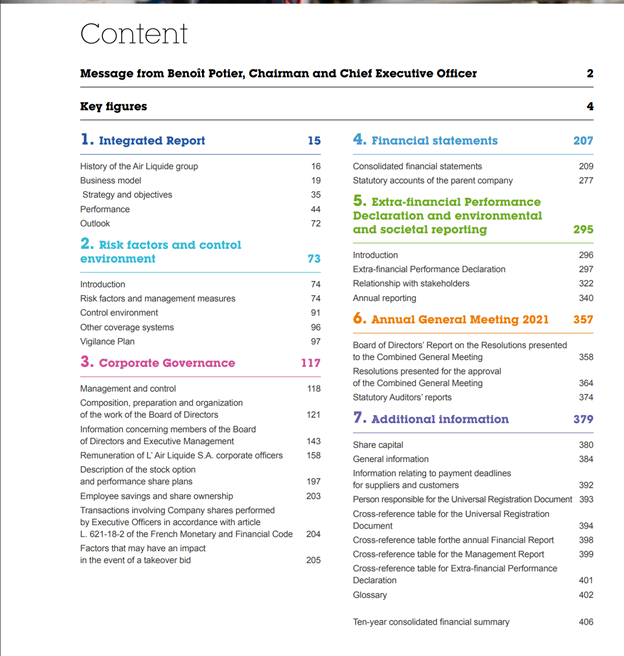 Globally agreed, publicly overseen Standards are long in coming.
When they are completed, they bear the scars of lengthy public debate. But they get done. When it comes to ESG information, in the 2020s the public is both more demanding and receptive. And now well over a decade of experience can be drawn on.
Corporations, state-owned enterprises, and the investing public do not need more information on ESG, they need to have more standardized ways of describing what is difficult to quantify. They are coming, thanks to that old, reliable accountant's tool, assurance statements.
[1] https://www.ifrs.org/projects/work-plan/sustainability-reporting/
[2] Technical guidance for certified accountants who wish to engage in assurance services can be found in the International Standard on Assurance Engagements (ISAE) 3000 and in The Assurance Sourcebook published by the Institute of Chartered Accountants in England and Wales (ICAEW) that also includes practical advice for firms choosing among different assurance services.